Our cold and freezer rooms can be configured with specific fittings and different accessories to adapt to any need
SHELVING
Each shelving is made up of 4 uprights with a 35 mm round section, in aluminum and shelves with lengths available from 600 mm to 2000 mm (with a range of 100 mm).
Available in the following dimensions
3 heights 1600 mm - 1800 mm - 2000 mm
4 Dept s 300 mm - 400 mm - 500 mm - 600 mm
The various shelves can be hooked together via a connector.
Ideal for food storage;
Made of aluminium / plastic (polypropylene) with removable shelves;
Resistant to low temperatures (down to -40° degrees);
Each shelf can support up to 150 Kg, evenly distributed;
Pull-out shelves that can be washed directly in the dishwasher;
Easy assembly: the shelp does not require any screws for assembly;
Set of no. 4 easily adjustable feet.
DOORS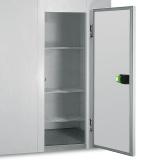 TN (normal temperature) buffer door complete with:
doorway,
4-sided gasket,
no. 2 hinges,
no. 1 handle with lock
from 600 x 1850 H mm to 1000 x 1850 H mm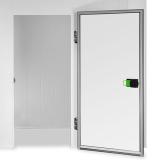 TN (normal temperature) buffer door complete with:
doorway,
3-sided gasket,
no. 2 hinges,
no. 1 handle with lock
from 600 x 1850 H mm to 1000 x 1850 H mm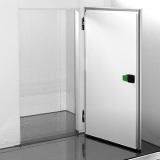 BT (low temperature) buffer door complete with:
doorway,
4-sided gasket,
no. 2 hinges,
no. 1 handle with lock
from 600 x 1850 H mm to 1000 x 1850 H mm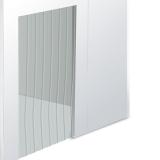 PVC strips door for TN (normal temperature) / BT (low temperature)
from 600 x 1850 H mm to 1000 x 2000 H mm
Split for rail passage of 300 x 400 mm with rubber on the doorway
FLOORS
Pavimento rinforzato in Acciaio INOX con tappi di legno multi marino (carico su gomma 250 kg)
Pavimento rinforzato con legno multi marino resinato da 9 mm (carico su gomma 300 kg)
Pedana a scivolo per celle TN e BT 800 mm